NBA Insider: 3 Years After Linsanity, Jeremy Lin Still in Search of NBA Home [by Howard Beck]
Source: Howard Beck; Feb 11 2015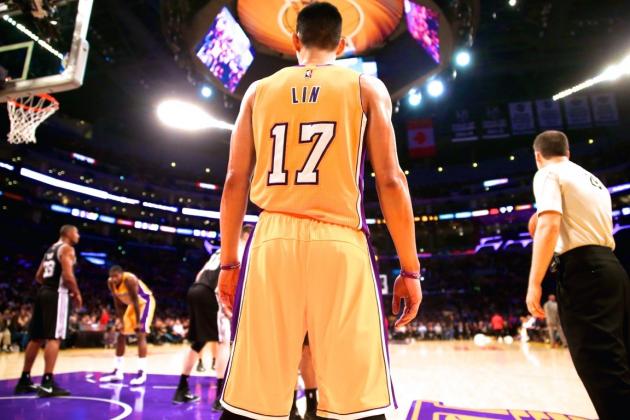 NEW YORK — Outside, the air is cold and biting, the sidewalks coated in ice and slush. But inside a quiet SoHo restaurant, tucked in a corner booth in the back, Jeremy Lin is a picture of comfort.
He is dressed in warm-up gear, topped by a white hoodie emblazoned with the word "California," and photos of palm trees, piers and surfboards. He is smiling, relaxed. Which is not necessarily the same as happy, or satisfied.
No, as the conversation unfolds, it is painfully clear that Jeremy Lin is quite far from happiness or contentment, at least as it applies to his NBA career.
An unexpected trade landed him in Los Angeles last summer, with a Lakers franchise in upheaval, with a coach who didn't know what to do with him, with a team built to lose. As the Lakers have plummeted, so too has Lin's standing. He has lost his starting job, and maybe some of his confidence.
For the first time in three years, Lin is dealing with pangs of discomfort and uncertainty—the sort of feelings he thought he had long ago buried, just up the avenue from here, in that blissful wave known as Linsanity.
This is, Lin concedes, the toughest period he has gone through since December 2011, when he was waived by two teams before catching on, and then catching fire, with the Knicks. The toughest period, by far.
"Yeah," Lin said assertively, repeating the word three times. "For sure."
Ever the diplomat, the Harvard-educated Lin will not delve into specifics, or criticize coach Byron Scott, or outwardly lament this unfortunate career detour. But there is no mistaking his discontent, or its causes.
"It's just everything," he said last week. "It's the toll of everything."
Lin catches himself before saying too much, pauses to search for the right words, then continues: "I guess I always have expectations for myself, right? Like I'll always have expectations for myself, or always believe that I can do this or I can do that, or I can be this player. And when I feel like I'm not reaching my potential, that's disappointing."
The numbers tell the story. Lin is averaging 10.4 points per game, his lowest average since leaving New York, having averaged 13.4 points and 12.5 points in his two seasons with Houston. His field-goal percentage has sunk to .432, down from .446 last season. He is playing 25.5 minutes per game, down from 28.9 last season. On the plus side, Lin is shooting a career-high .374 from three-point range and still averaging a stout 4.6 assists in this limited role.
But his play has been wildly inconsistent, statistically and otherwise. Some nights, he looks like the attacking, confident kid who lit up Madison Square Garden, hit buzzer-beating jumpers and dropped 28 points and 14 assists on the Dallas Mavericks. Other nights, Lin looks tentative and sloppy with the ball.
He readily acknowledges the struggle.
"There's a lot of factors that are involved in that," Lin said. "And I think I have to continue to work, I have to continue to get better and see how can I try to make the most of the situation, or be the best version of me that I can be here."
Whatever that version is, it will not be rediscovered in Los Angeles. The three-year, $25 million contract Lin signed with Houston in 2012—the one Carmelo Anthony called "ridiculous"—expires this summer. Lin will be free to choose his own destination as an unrestricted free agent, and he is certain to be moving again.
"It's just been a growing experience, more than anything," he said. "Never would I have thought that my career has gone in the trajectory that it's gone in…. When I was younger, it seemed like every year I would get better. It seemed like I would put the work in and then I would see those improvements. And for whatever reason, I felt like, well, I know I put the work in, and I felt like I was getting better. But it didn't always amount to the results I wanted to see. So that's definitely frustrating, to see that happen three straight years."
Whatever you may think of Lin—overrated, underrated, stalled out or still evolving—he is a known quantity now, in a way that he most certainly wasn't three summers ago in the wake of the Linsanity phenomenon.
"I feel like people in the league know what my strengths are and what my weaknesses are," Lin said. "I have more of a foundation behind my name."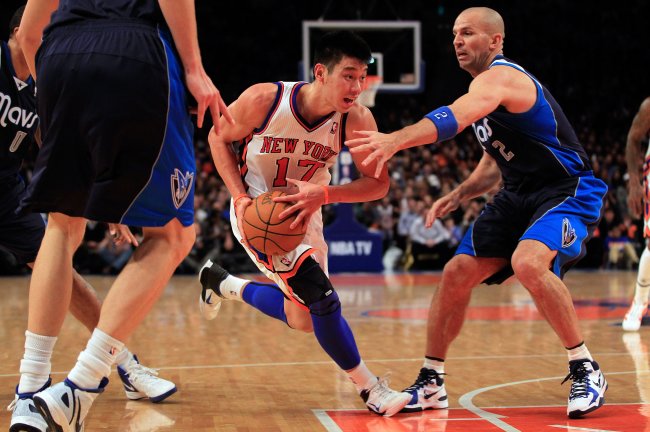 In 2012, Lin was a global icon and an inspiration, but still a basketball curiosity—the undrafted, twice-waived Ivy League kid who saved the Knicks' season with a stunning string of spectacular performances.
No one knew for sure then what Lin might become, but the rebuilding Rockets decided it was worth $25 million to find out, and landed Lin when the Knicks refused to match the offer.
As it happened, the Rockets also landed rising star James Harden a few months later, a move that immediately reduced the need for Lin's best talents—playmaking and scoring in the pick-and-roll. Still, Lin had two solid seasons in Houston and occasionally summoned the old magic—a 38-point game here, a 34-point, 11-assist game there, and a bunch of 20-point outings sprinkled along the way.
In his tenure with the Rockets, Lin had 24 games of at least 20 points, and 34 games with at least eight assists, proving that Linsanity was no fluke. Though it always seemed unlikely that Lin would sustain Linsanity levels of production over a full, 82-game season, it was nevertheless clear, even then, that his late-season explosion with the Knicks had substance behind it.
"I was able to establish myself, create an identity," Lin said. "I can be a better version of what I was in Houston. And I'm hopeful that through time I'll be able to do that."
Though he eventually lost his starting job to defensive ace Patrick Beverley, Lin remained a major part of the rotation, a valued player on a rising power.
But the Rockets needed salary-cap room last July to make a frenzied, all-out bid for Chris Bosh. So they offloaded Lin's hefty contract, along with a first-round pick, to the Lakers. It was purely a bookkeeping move. The Rockets remain high on Lin and are expected to be among his chief suitors this summer.
At 26, Lin is still young enough to have an upside, and he's driven to keep improving. This isn't the first time he's hit a roadblock. As a freshman at Harvard, things got so bad that Lin's mother pulled transfer papers at one point. But Lin stuck it out and became an Ivy League star. The same pattern has played out in the NBA.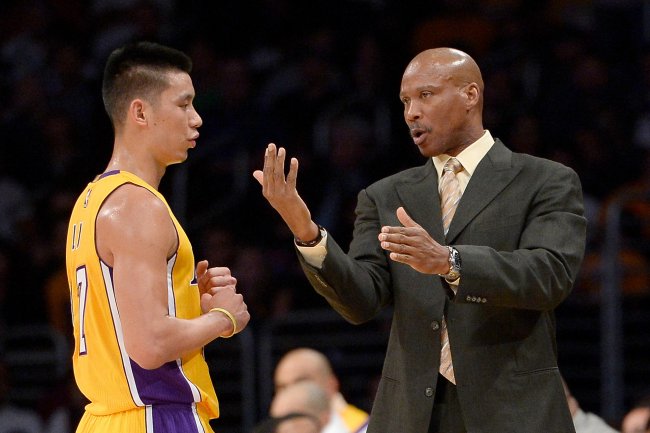 Ever since Linsanity struck, there's been no middle ground for Lin. He was either hyped as a savior and a star, or dismissed (often derisively) as a flash in the pan—"a bum that needs to be in the D-League and should never come back to the NBA," Lin said with a chuckle.
"There's always been doubt around me, around my name, ever since I stepped foot in the NBA," Lin said. "That's literally all I've had, is just a huge cloud of uncertainty, doubt and in a lot of ways maybe polarizing criticism around me, for whatever reasons. It's part of the journey."
Maybe it's the fact that so many people misread Lin from the start. Or maybe some part of the population still can't accept the idea of a Harvard-educated Asian-American running the point for an NBA team.
"I'm polarizing for very interesting reasons," Lin said. "What makes other athletes polarizing isn't really what makes me polarizing, if that makes sense."
Whereas some athletes stir controversy with their brash demeanor or their selfish play, Lin seems to stir emotions just by taking the path he did, by "the way everything happened."
"That's what's polarizing," he said. "Like, kind of out of my control, the way the media built me up or the way they tried to tear me down or whatever. There's a lot of interesting stuff, and it just turns into this very polarizing, love-hate, 'you're-the-best,' 'you're-the-worst' type situation."
In July, Lin will have choices to make and an opportunity to start the debate all over again. He would surely benefit from a more supportive coach and perhaps a system more attuned to his skills. He has always been best as a primary ball-handler in an uptempo, pick-and-roll attack, the kind that Mike D'Antoni popularized.
The cruelest twist of Lin's trade to Los Angeles was that it came just weeks after the Lakers pushed out D'Antoni, the coach who made Linsanity possible. Is there a Linsanity sequel in the future? Even Lin can't say, admitting, "The jury's still out on that one."
But Lin, a devout Christian, firmly believes there's another bright chapter in his NBA saga, that his mystical run in New York, as unique and unexpected as it was, was not a one-time thing.
The doubters are out there, but Lin just smiles.
"Never say never," he said.