Game 2: Tough Jeremy Lin Finished with 24 Points/6 Assists/8 Rebounds/1 Steal in Beijing Ducks 105-102 Win Over Shandong Golden Stars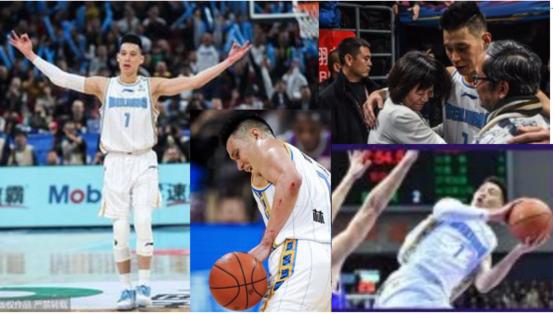 Jeremy Lin once again had a terrific performance in their match up vs Shandong Golden Stars on November 6, 2019 to help his team Beijing Ducks to remain undefeated, 105-102 in the Chinese Basketball Association (CBA).
7-min Highlights (Link credit to Arsenium12)
Game-worn Jersey for Mama Lin and XTep Shoes for Fans
According to previous promise, @JLin7 gave the #Xtep JLin PE shoes worn at debut home game to the lucky fans after the game. In addition, he took off the jersey and handed it to Lin Mama.
According to previous promise, @JLin7 gave the #Xtep JLin PE shoes worn at debut home game to the lucky fans after the game. In addition, he took off the jersey and handed it to Lin Mama. pic.twitter.com/kNVCYbUwPt

— Popo Chung (@PopoChung7) November 6, 2019
 3 shot x finger heart
Jeremy Lin made "3 shot x finger heart" action after he got 3-pointer FGM in the first home game tonight. He said at the start of this season, "Every time I make a 3-pointer this season, I will make this action- 3 shot x finger heart"
Jeremy Lin made "3 shot x finger heart" action after he got 3-pointer FGM in the first home game tonight.@JLin7 said at the start of this season: Every time I make a 3-pointer this season, I will make this action-
3 shot x finger heart. 👌💗 pic.twitter.com/tkKXJfCKik

— Popo Chung (@PopoChung7) November 6, 2019